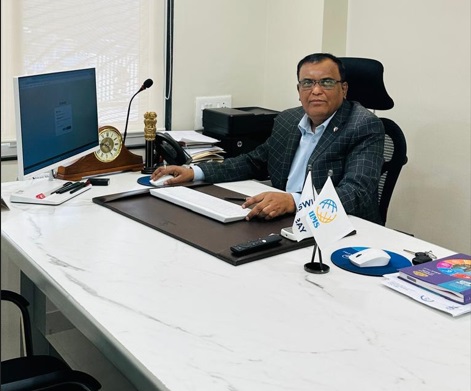 Dr Shivaji D Mundhe
Director- IIMS
Warm greetings to each one of you as you embark on this exciting journey of pursuing your Master of Business Administration (MBA) degree. I am thrilled to welcome you to our esteemed institution and to a world of endless possibilities in the realm of business and management.
In lieu of changing landscape of Digital transformation, it's imperative that management education has necessitated a shift in understanding of the concept of learning. Learning involves continuous and constant unlearning and relearning and thus the minds must be trained to constantly relearn and evolve. IIMS supports such progressive goals and attune the students towards global digital learning solutions to be skilled and knowledgeable performers across fields of their choice through the student life cycle.
During your time here, you will not only gain invaluable knowledge but also develop essential skills that are the bedrock of successful leaders. Our comprehensive curriculum is designed to equip you with a deep understanding of business theories, practices, and strategies. However, we go beyond the theoretical by fostering a culture of experiential learning. You will engage with real-world projects, case studies, and industry partnerships that will provide you with insights into the practical nuances of the business world.
Remember, an MBA is not just about acquiring academic credentials; it's about honing your analytical thinking, problem-solving capabilities, and leadership qualities. We encourage you to actively participate in discussions, collaborate with your peers, and take ownership of your learning journey. The networking opportunities that you'll find here will be invaluable in building relationships that will last a lifetime.
As you navigate through this program, embrace change and innovation. The skills you acquire during your time here will not only prepare you for the present but will also empower you to shape the future. Embrace challenges as stepping stones to growth and seize every opportunity to learn and adapt.
Our dedicated faculty members are here to guide and mentor you, and our staff is committed to providing you with a conducive learning environment. Make the most of the resources and support available to you, and never hesitate to seek guidance when needed.
I urge you to set ambitious goals for yourself, stay focused, and remain resilient. The journey ahead might have its share of obstacles, but with determination and the skills you'll cultivate here, there is no limit to what you can achieve.
Once again, welcome to our institution, and to a transformative experience that will shape your future in ways you can't yet imagine. I look forward to witnessing your growth and accomplishments over the course of your journey with us.
Dr Shivaji D Mundhe
Director- IIMS